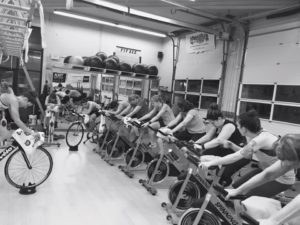 Come Work Out with With Us when it is Cold Outside!
Winter is coming and we need to stay in shape! Our FALL/WINTER programs are a fun way to keep you in shape when the temperature is too cold outside! We will have several classes available. You choose how many times a week you want to work out with us!
A minimum of 6 – 8 women in each class is needed. If a class is cancelled because of snow we will do our best to make it up.

SESSIONS Fall/Winter/Spring 2017/2018

SESSION 1 – November 6, 2017 – February 1, 2018
SESSION 2 – February 5 – April 21, 2018
THREE CHOICES –
Sign up for the 10 week program (BEST VALUE) see below to sign up.
Buy a 5 class pass for the session to use the during the session – please note – each pass is only good for the session it is bought in. (EX. If you purchase the 5 class pass Session 1 then you will need to use it Session 1.)
Drop In. Cost to Drop in is $15. Pay at class!
BUY A 5 CLASS PASS NOW FOR SESSION 1 ! You must be a member to be eligible for a 5 Class Pass.
Non-members can drop in for a $15 charge.
Please login to see the 5-class purchase link
CLASS OFFERINGS
LOCATION: sheJAMs Club House
A. MON. 6:30 – 7:30 am STRENGTH COACH: Susan Shepard
COST: 10 Weeks members $100/ non-member $125.00
B. MON. 9:00 – 10:00 am SPIN/YOGA COACH: Andrea Gleason
COST: 10 Weeks members $100 / non-member $125.00
C. MON. 6:00 – 7:00 pm SPIN/CORE COACH: Cate Wilson
COST: 10 Weeks members $100 / non-member $125.00
D. TUES. 6:30 – 7:30 am SPIN /CORE COACH: Kim Orr
COST: 10 Weeks members $100 / non-member $125.00
E. TUES. 6:00 – 7:00 pm MEN'S SPINNING COACH: Brian Sites
COST: 12 Weeks $125.00. $15 DROP IN (NO 5 CLASS PASS)
F. WED. 9:00 – 10:00 am SPIN/CORE COACH: Rebecca Goodwin
COST: 10 Weeks members $100 /non-member $125.00
G. WED. 6:00 – 7:00 pm SPINNING FOR TRIATHLETES COACH: Cody Harris
COST: 10 Weeks members $100 / non-member $125.00
H. THURS. 6:30 – 7:30 am CIRCUIT STRENGTH COACH: Faye Maier
COST: 10 Weeks members $100 / non-member $125.00
I. THURS. 6:00 – 7:00 pm STRENGTH COACH: Susan Shepard
COST: 10 Weeks members $100 / non-member $125.00
J. FRI. 9 – 10 am SPIN/STRETCH COACH: Kim Orr
COST: 10 Weeks members $100 / non-member $125.00
K. FRI. 11:30 – 12:30 pm SPIN/YOGA COACH: Andrea Gleason
COST: 10 Weeks members $100 / non-member $125.00
L. SAT. 8:00 -9:00 am BOOT CAMP COACH: Faye Maier
COST: 10 Weeks members $100 / non-member $125.00
M. SAT. 9:00 – 10:00 am. YIN/CORE YOGA COACH: Sara Maddocks
COST: 8 Weeks members $100 / non-member $100.00

SPINNING is a form of exercise with classes focusing on endurance, strength, intervals, higher intensity (race days) and recovery, that involves using a special stationary exercise bicycle with a weighted flywheel in a classroom setting. You can bring your own bike and put it on one of our trainers or use one of our spin bikes. Most spin classes are combined with the following.
CORE: 45 minutes spin – 10 minutes core work
YOGA: 40 minutes spin – 15 minutes yoga
STRETCH: 45 minutes spin – 10 minutes stretching
---
SPINNING FOR TRIATHLETES – class is encouraged to spin on our trainers on your own road bike. Class is geared toward training on your own bike. We do have spin bikes available if you would prefer. This is a full spin class.
---
MEN'S ONLY – if you are a member of sheJAMs and your "man" has interest in our MEN's ONLY Spin Class, have him join in the fun! Men's only spinning is Tuesday night. There will be a mix of spin bikes and trainers to be used during the class.
---
STRENGTH
Our strength class is focused on helping you to become stronger for your chosen sports and daily life. We will focus on core and full body strength, balance, mobility and stability using a variety of equipment. This class is open to all levels and every exercise can be modified to fit your needs. We aim for a challenging, fun filled class that will keep you on track with your strength training goals.
---
CIRCUIT STRENGTH
Circuit Training is a form of body conditioning or resistance training while combining high-intensity cardio. It targets strength building or muscular endurance. An exercise "circuit" is one completion of all prescribed exercises in the program. When one circuit is complete, one begins the first exercise again for the next circuit. Traditionally, the time between exercises in circuit training is short, often with rapid movement to the next exercise.
---
BOOT CAMP
Fitness boot camps never go out of style for good reason: The military-inspired workouts burn serious calories. "Built on three fundamentals of training—cardio, strength, and agility—boot-camp workouts require little more than your body weight to get results.
---
YIN/CORE YOGA
Any physical pursuit will eventually leave its imprint in your body, unfortunately these imprints can show up as a restricted range of motion, shortening of the musculature and loss of flexibility. Whether you're a runner, walker, biker, swimmer, play hockey, or are constantly on your feet or sitting as part of your career, Core/Yin fusion can help reduce the effect of repetitive motion stress and nurture the development of flexibility in areas that tend to succumb to tightness. Through time, this practice can help to lengthen muscles, open up the joint systems and foster the improvement of core stabilization for healthy physical alignment, and mind/body awareness in any activity.
By spending time at the beginning of class in a short sequence of core stabilization poses fused with breath and deep abdominal muscle conditioning, our bodies are better able to understand the experience of softening into a more classically led Yin Yoga based practice that intentionally reaches deep into the connective tissues resulting in a reconditioning of fascia, ligaments and tendons. It's like a drink if water for your joints.
| | | |
| --- | --- | --- |
| Days / Week | MEMBERS Cost: | NON-MEMBER Cost: |
| 1 | $100 | $125 |
| 2 | $175 | $225 |
MEMBERS ONLY:
Please login to see this member content
SESSION 1:
November 6, 2017 – February 1, 2018
SESSION 2:
February 5 – April 21, 2018
---
Non-Members:
SESSION 1:
November 6, 2017 – February 1, 2018
SESSION 2:
February 5 – April 21, 2018
---
OUR COACHES:
ANDREA GLEASON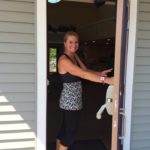 Andrea lives in South Portland with her family and works in Portland as the Director of Recruiting Services at Pro Search, Inc. She started doing triathlons 6 years ago and was immediately hooked. Andrea got her USAT Level 1 Coaches certification in 2009. Andrea wants to share her enthusiasm and love for the training that goes in to completing (notice completing rather than just competing in) a triathlon.
"I've found that my body responds much better to doing a variety of activity rather than the same thing day after day. Training with a group of women friends is not only fun and encouraging, but a great connection! I am constantly astounded by the power and strength of women!"
---
SUSAN SHEPARD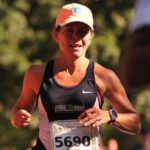 Susan is an ACE certified personal trainer, a TRX Qualified Group Instructor and TRX Qualified Functional Fitness Instructor. She lives in Cumberland with her husband, three kids and two dogs. Susan has completed ten marathons and also enjoys swimming, biking and horseback riding. As an avid runner and athlete she understands the role that strength training plays in a healthy lifestyle and how it can help to avoid injury. Susan loves to create a fun and challenging workout environment that welcomes all levels.
---
FAYE MAIER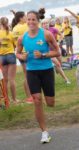 Having grown up playing soccer and other competitive sports, Faye found a renewed interest in fitness after the birth of her second daughter. Faye is most passionate about sharing her love of fitness and a healthy lifestyle with her 2 daughters and women everywhere. She hopes that her message of being strong and fit comes in many different forms, and we should love our bodies for giving us the ability to do the things we love to do. Faye lives in Scarborough with her family and has been a personal trainer for the last 5 years.
---
CODY HARRIS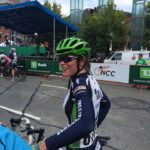 I began mountain biking when I was a teenager with my first race being the Widowmaker Challenge. Eventually I got a road bike to help with my fitness for mtn biking and before I knew it I was racing the road scene. I've now been racing road bikes with my specialty in criterium racing for 16 years.
My indoor cycling classes focus on shorter more intensive intervals (a criterium specialty) to help push the body to become faster. The session will begin focused on foundation work and build in intensity as the session continues. As always, I welcome all that want to attend, whether it be to follow my routine or to follow your own, accompanied by others to help pass the time.
---
REBECCA GOODWIN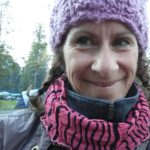 Rebecca has an extensive background in dance . She danced while raising a family and during this time found spin and triathlon in 2001.
Rebecca's profession is an Licensed Massage Therapist and Doula (Professional Labor Support). She taught baby and me classes part time at the Casco Bay YMCA that led her to subbing for spin classes in 2004. Her full time work as a LMT and Doula keep her from exclusively training and teaching classes. Like every working mom she gets in what she can to keep healthy and spiritually clear. Spinning has taught her many things……. how to let go….. work harder….. and respect injury. It is a passion she will continue, and she is thrilled to be able work with each and everyone of you, hear your stories and sweat together. The best part of training are the relationship you grow along the way.
---
KIM ORR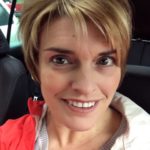 Kim discovered her love of fitness after the birth of her son. Finding time to get out for a run or take a bootcamp class became a priority. It was the perfect way to regroup and relieve stress after a hectic day. After developing a running injury, she found a passion for spin class. This intense, low impact workout was the perfect alternative to a long run. She became a certified instructor in 2012 and has been teaching in the Portland area ever since. In 2014, Kim decided to further her fitness expertise by enrolling with the National Academy of Sports Medicine to obtain her personal training certification.
Kim is eager to share her love of fitness with the SheJams community. There is nothing better than women empowering women to reach their goals!
---
SARRA MADDOCKS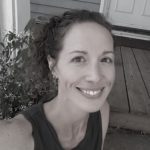 About 10 years ago Sarra showed up at her first yoga class with inherent flexibility, totally superficial strength, and a mindset that she was going to be good at yoga. Yoga changed her life, but it took a long time to let that change happen. 1,000 classes later, strength and flexibility coincide as a balanced and integrated part of who she is.
In 2012 she completed a 200-hour RYTA certification with Alice Ricardi, certified Baptiste Yoga Teacher and founder of Portland Power Yoga. Since then she has gone on to complete 92 hour Level One training with the Baptiste Institute. Presently Sarra teaches at Scarborough Yoga, instructing classes in Power Flow and Gentle yoga as well as a self designed class called Core/Yin Fusion. In addition, she teaches at the Greater Portland YMCA, where she has been a member of the wellness staff for four years. She created and established a yoga curriculum for STRIVE, a local non-profit serving young adults with developmental disabilities, and she has been active with the Go To Yoga Project whose mission is to bring yoga wherever it's needed.
Her goal is to make yoga available to everyone. Yoga is a tool that helps overcome the limiting factors we create for ourselves and changes our way being both on and off the mat, all it takes is practice.
---
CATE WILSON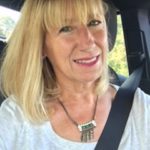 Cate's love for Fitness and Wellness spans 20+ years of experience. Having a watchful eye on form and composure of my clients I love to see people grow through their experiences of become healthy through movement and understanding how our Minds and body are connected. With use of energy through movement we can do whatever we desire to do, if we continue to focus on a healthy mind and body. Cate has worked with all ages with specific sport training, triathlon training, marathon training, posture and mobility improvement, swim instruction, and many other modalities in the fitness industry.
Cate resides in Gorham with her 83 year old mom and is an avid Triathlete. She has 3 beautiful grown children and loves outdoor activities and spending time with "Henry" her dog. Her full time job is Recreation Coordinator that consists of overseeing the Pool, Fitness and Swim School. She participates in local triathlon, running and swimming race events and has competed on the National level and in 2017 Cate qualified for the ITU age group World Championship Finals in the Netherlands and completed her first World Championship. Cate explains that, "It is always a process to keep yourself from destructive head talk and building strong body!" It takes work every day to thrive, live, and believe you can do whatever you choose to do.
---
BRIAN SITES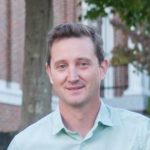 Brian may be from away (he's a Virginia native) but he is passionate about living, working, and being athletic in Maine. A longtime bicyclist (a BMX'er and mountain biker converted to road cyclist), Brian has been teaching indoor cycling for 3 years. Now an avid triathlete, he learned to swim at age 41 so that he could compete in his first race.
Brian lives in North Yarmouth with his wife and two daughters. Brian is the VP of Business Development for Volunteers of America Northern New England where he develops programming and housing for vulnerable populations in Maine.