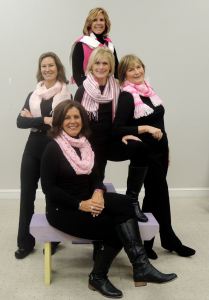 The Boston Marathon Scarf Project began with a simple request for handmade blue and yellow scarves interwoven with love and courage. Old South Church in Boston collected over 7,300 scarves in 10 weeks that were given to athletes, survivors, and first responders that participated in the 2014 Boston Marathon.

As participants of the Boston Marathon, this scarf is a symbol of love from the community that we will cherish for years to come. We thought this privilege should be brought to the participants of the Maine Cancer Foundation Tri for a CURE.

sheJAMs has created the Stitch out Cancer Pink & White Scarf Project. We will be collecting traditional knitted and crocheted pink & white scarves to donate to those participating the in the 10th annual Tri for a Cure. It will take a village to create over 1,400 scarfs for the event. We know that everyone who participates will be honoring a loved one, a co-worker, family member or friend who has had cancer or a cancer survivor themselves.
Our request is simple, make a traditional knitted or crocheted Pink & White Scarf. Dimensions to be 5 – 7" wide by 36 – 70" in length. Please let us know who you are and who you made the scarf in honor of. We will donate it to one of the 1,400 participants in the 10th Annual Tri for a CURE.

We hope you will enjoy being part of this project and bring some joy to someone who will be working hard on race day.
SCARF DROP OFF: Couleur Collection, 240 US Route 1, Falmouth, ME 04105
DROP OFF PARTY at COULEUR COLLECTION – 240 US Route 1, Falmouth, ME
Wednesday's. 4:00 – 6:00 pm
March 1,
April 19,
May 24
June 14
July 12th – SPECIAL ART SHOW ~ to show off the amazing scarfs!
TRADITIONAL SCARF SPECIFICATIONS
PINK & WHITE YARN
KNITTED OR CROCHETED
TRADITIONAL SCARF
5 – 7 INCHES IN WIDTH
36 – 70 INCHES IN LENGTH
FRINGE IS ALLOWED BUT NOT REQUIRED
SCARF PATTERN IS UP TO YOU
ALL SCARFS MUST BE RECEIVED BY 7/14/17
FMI: https://shejams.com/stitch-out-cancer/
LIKE US ON FACE BOOK: https://www.facebook.com/StitchOutCancer
WHAT YOU CAN DO:
Spread the word
Make a scarf or many scarfs – have your loved ones knit too!
Host a knitting night at your home.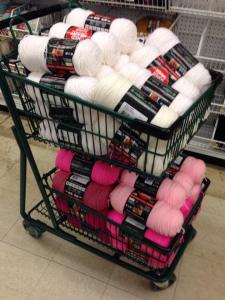 You can also MAIL your scarfs to:
sheJAMs, PO Box 6093, Falmouth, ME 04105
PLEASE INCLUDE: Name, city & state of knitter and name of the person the scarf is made in honor of.
Thank you for all you do. We hope you can support this project in some way!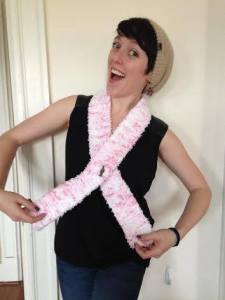 FOR MORE INFORMATION:
info@sheJAMs.com or 207-671-2420
TO DONATE CASH TO BUY YARN
Send check to sheJAMs, PO Box 6093 Falmouth, ME 04105
You can also donate via PayPal:
LIKE US ON FACEBOOK:
https://www.facebook.com/StitchOutCancer
Help us spread the word!