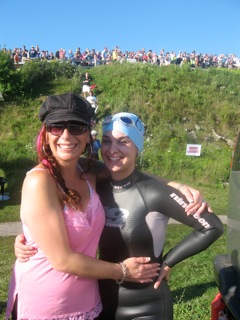 Your sheJAMs membership has benefits! Upon membership you will receive an official membership card.
When you present your membership card to sheJAMs partners you will receive special discounts! (see list of partners)
You will have access to sheJAMs personal preferred trainers.
You will have access to sheJAMs fabulous women's training groups.
sheJAMs social nights for members only
sheJAM's members only forum to contact other members to ask for help, to sell merchandise like used bikes, or wetsuits, to spread the news of great sales at local shops of interest!
Meet new friends to train with, to volunteer with, to start a book club with or socialize with!
Be an ALL-INCLUSIVE sheJAMs member! No need to pay for individual programs.
SAVE $225!
INCLUSIVE MEMBERSHIP INCLUDES:
Yearly Membership Fee
SheJAMs T-Shirt
Yearly Run Group Member
Triathlon Training
Spinning – Session I & II
Weight Training- Session I & II
ANNUAL MEMBER (click to register) $50
Cost of membership is $50 per year. You pick and choose which training programs you would like to participate in. Or just join the group for free informal training and our fabulous monthly socials! Your membership fee helps to underwrite the expenses of club insurance and registration, administrative expenses, and lots of super-fun special events through out the year.
Each year, sheJAMs will designate a budgeted amount of money to donate toward women causes. Club members will help determine what causes we will support on a yearly basis.
Non-members:
Non-members are welcome to try out club events free of charge one time.
Membership Guarantee:

If you join sheJAMs and decide after a month trial that you are not getting what you were promised…just let us know. We would be happy to refund your membership dues. (Does not include training programs)*
*Note: if you have joined a sheJAMs training program and are unsatisfied after one week please let us know and we would gladly refund the cost of the program!