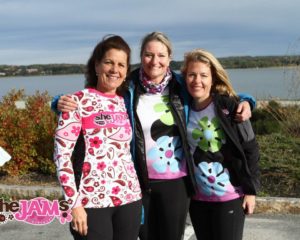 Welcome to Portland Maine's All Women's Club, sheJAMs!
sheJAMs was created by three friends Julie, Andrea and Melissa in early 2010, to bring together women of all ages and abilities who enjoy being active. Our goal was to provide an environment for women to train together that is encouraging, and open. A place where it is fun to share each other's experiences, accomplishments, and challenges…and revel in the energy that a group of women with common interests can generate!
sheJAM's is for any women looking for community. An opportunity to meet friends with the same interests! We want you to be a strong, active woman, making a difference for yourself, in your home and your community. We want you to be a better you!
You don't have to be a seasoned athlete to join in the fun! Everyone is welcome! sheJAM's is a place where women can share their love of the outdoors and an active lifestyle in a safe, friendly encouraging environment. You can work out or train as easily or intensely as you want and you will always find someone at a similar level!
sheJAMs focuses on swimming, biking, running and strength training with the opportunity to improve general fitness and skills for whatever you want to accomplish. Maybe you run your first 5K, learn how to swim or try your luck at a triathlon, or even a marathon! This is the group for any level!
We host regular social events beyond training that have include: Yamuna Body Rolling with Melora Gregory, Self Defense at Discovery Martial Arts, potluck dinners, a run to Ri Ra's, sheJAMs spin classes followed by dinner, Bike Fittings at Gorham Bike and Ski, Bike 101 at Cyclemania, Bowling at Bayside Bowling, Nutritional information at The Vitamin Shop, a Cooking Demonstrations, Boot Camps and more. The list goes on and new ideas are always welcome! The options are endless!
To add to it all, we build in a charitable component into almost everything we do!

Our Goal ~ To offer an opportunity to live healthy lives and form lasting friendships.